Instrumentation Cables (Shielded & Screened)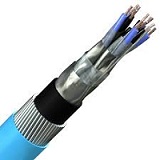 A Shielded or Screened Instrumentation Cable is an electrical cable of one or more electrical conductors enclosed by common conductive layers. The shield may be composed of braided strands of copper, a non-braided spiral winding of copper/mylar tape or a layer of polymer. Usually this shield is covered with a jacket. The shield minimizes capacitive complex noise from other electrical sources. In shielded signal cables, the shield may act as the return path for the signal or may act as a screening only. In the projects related to power generation & distribution, chemical & fertilizer industries and various other types of engineering industries, the process instrumentation plays a significant role in measurement.
Light weight
Easy to install
Long lasting material quality
Reduced interference from surrounding electrical sources
Offered cables are precisely manufactured using the qualitative grade raw materials and latest technology. With our expertise in this domain, we are able to offer a superior quality range of Instrumentation Cables. These are fabricated under the supervision of our professionals using quality tested raw material to ensure their durability.