Copper Control Cables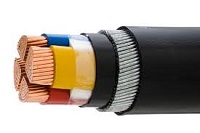 We are offering an excellent quality range of Copper Control Cables which are used for Relay Equipments. These control cables are insulated with PVC compound taped/extruded inner sheath. Round steel wire / Flat Galvanized steel strip armoured. The inner & outer sheaths can be PVC, HR PVC, FRLS, HR-FRLS, or FR depending upon the application and requirement of customers. They are widely known for its durability and quality. These cables have longer service life and offered in varied dimensions to suit the different requirements of the consumer.
Mechanical and electrical property
High resistance to wear and tear
Longer service life
The offered Cables have stranded annealed copper conductor, PVC/XLPE insulated, HR extruded PVC inner sheathed, round galvanised steel wire armoured and overall HR extruded PVC sheathed. The PVC material provided for insulation and outer sheathing has smooth finish. We manufacture these cables with single layer of G.I. Steel Wires for armouring to withstand mechanical stresses during handling and this make them resistant to action of oil, acid and alkali. These control cable can be further customized as per the customer's requirement.