PVC Conduit Pipes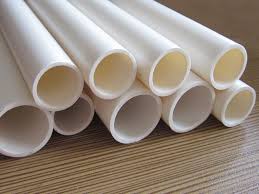 Keeping in mind customers' requirement, we are highly engaged in offering supreme quality PVC Conduit Pipes. An electrical conduit is a tubing system used for protection and routing of electrical wiring. PVC conduit is the lightest in weight compared to other conduit materials, and usually lower in cost than other forms of conduit such as Steel and G. I. Conduits.
These are manufactured using finest quality raw materials by our knowledgeable professionals with the help of most advanced machineries and latest technology. Offered range is available in light, medium and heavy range. Some of the most remarkable features that make them superior from other pipes include:
Non conductor of electricity.
High mechanical strength in concealed and open conditions.
Smooth finished inner surface ensures friction free & easy wiring.
Corrosion free and resistant to bacterial, termite and fungal growth.
Moisture-resistant and flame retardant.
Due to light weight easy to handle, install & transport.
Economical, durable & maintenance free.
Easy to replace.
No deformation or bending.
No cracking.
Non toxic.
Sizes available: 20, 25, 32, 40, 50 and 63 mm.
Product Specification
Product Name
Size
Length
Remark
Conduit Pipe
20 mm to 63 mm ((For Light, Medium & Heavy
Mechanical Stress)
3 meters
As per IS : 9537 (Part3)
Technical Specifications
Nominal Size
Outside Diameter (mm)
Tolerance On Outside Dia. (mm)
Inside Diameter Min (mm)
Light
Medium
Heavy
20
20
-0.3
17.4
16.9
15.8
25
25
-0.4
22.1
21.4
20.6
32
32
-0.4
28.6
27.8
26.6
40
40
-0.4
35.8
35.4
34.4
50
50
-0.5
45.1
44.3
43.2
63
63
-0.6
57.0
–
–